Porter Ranch
Porter Ranch is an affluent neighborhood in the northwest region of the San Fernando Valley region of the city of Los Angeles, California. Part of Porter Ranch stretches into the flatter land below the 118 freeway, while much of Porter Ranch is nestled in the foothills of the Santa Susana Mountains. Well educated, and wealthier than the surrounding SFV cities, residents of Porter Ranch enjoy a quieter, planned community vibe shile still within easy commuting distance to downtown and the Westside.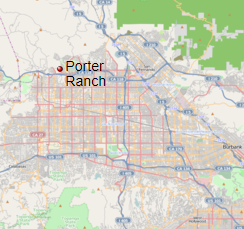 Schools within the Porter Ranch boundaries are: Public: Castlebay Lane Charter School, 19010 Castlebay Lane Porter Ranch Community School, 12450 Mason Avenue Private: Sierra Canyon School.
Parks:
Palisades Park is an unstaffed park in Porter Ranch. Others include Aliso Canyon Park, Rinaldi Park, Viking Park, Porter Ridge Park, Limekiln Canyon Park, Moonshine Canyon Park, and Holleigh Bernson Memorial Park.Porter Ridge Park was a filming location of the movie E.T. the Extra-Terrestrial.